Ride Your Way, Every Day!
Get ready for the MassCommute Bicycle Challenge 2020! Now entering our 26th year from Sept 19th-27th.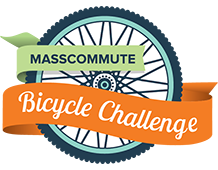 New this year, we've partnered with MassBike to bring you BayState Bike Month all month long and now all bike trips count, not just commuting trips. So recruit your co-workers, challenge yourself to take more trips on your bike or  to go out for longer rides! You can log your bike rides on our web platform, the Commute Tracker mobile app for iOS or android, or link your account to Strava and watch yourself pedal up the MCBC leaderboard! Reap the benefits that biking brings such as increased fitness, stress release, and reducing your carbon footprint by replacing car trips with bike trips.  Join the MassBike network to be entered in the month long challenge and join additional challenges as they are announced!
Create an account on CommuteConnect or log in to your existing account. Make sure you've joined your TMA member company/building/residence. At the top of your dashboard you'll see a banner that says, "Check out the MassCommute Bicycle Challenge here." Create or join an existing team and compete as an individual-both # of trips and # of miles count.
Want to make logging your bike trips easier? Download the Strava app on your phone for iOS and android. With Strava, you can record your bike trips as you are riding and integrate into your dashboard in CommuteConnect. Follow these steps to complete this:
Download Strava on your phone
Go to your Dashboard in CommuteConnect, scroll down the right side where it says, "Do you use Strava or Waze Carpool" follow the steps outlined
Once connected, change the settings to "All trips" (default is commute trips)
Start recording your rides. You will see your Strava trips in your dashboard, it takes about 10 minutes to upload. Go to "Log your Trips" in your dashboard. Then toggle to 'history' above the calendar. You should see your trips recorded here.
Follow the social media accounts for the latest news, promotions, and challenges:
First challenge: Join the MassCommute Bicycle Challenge, log your bike trip, and take a picture of your route from Strava or along your ride. Tag us on Instragram or Twitter with #MCBC2020 and #NorthShoreTMA for the chance to win a $25 gift certificate to your local bike shop and an MCBC T-shirt. 3 drawing winners will be announced on Weds, Sept 23rd.
2nd Challenge: Log one recreational trip by bike and one errand by bike. 4 winners will receive an MCBC T-shirt, a frame pump, and a water bottle. Winners will be announced on Sept 28th.
Instagram @MCBikeChallenge, @NorthShoreTMA
Twitter: #MCBC2020, #BayStateBikeMonth, @NorthShoreTMA, @MassBike