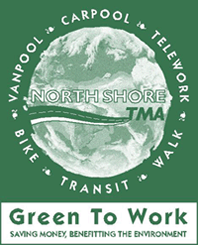 Our most popular program, Green to Work, rewards commuters who commit to trying a "green" mode of commuting (such as: walking, biking, running, taking public transit, carpooling, vanpooling or telework) at least 2x/week.
Registration for the program is simple.
Once you've registered, you'll be eligible for our $250 Amazon gift card quarterly raffle drawing. All participants will receive a short survey to confirm they utilized a green commute during the that quarter. The raffle drawing schedule is as follows
Eligible quarters: Jan-March (drawing in April), April-Jun (drawing in July), Jul-Sept (drawing in Oct), Oct-Dec (drawing in Jan)
 Best of all, participation in this program comes at no cost to you! For questions or more information, please contact the TMA .