NORTH SHORE TMA
COMMUNITY BIKE CHALLENGE
May 12th – May 20th
A four city municipal challenge from the North Shore TMA & MassCommute Bicycle Challenge
Beverly—Danvers—Lynn—Salem
This year during National Bike Week, the North Shore TMA is promoting a friendly competition between residents of Beverly, Danvers, Lynn, and Salem to see which community will have the most people sign up for the 2018 MassCommute Bicycle Challenge (MCBC) and take the most number of rides during Bike Week.
The TMA will donate $5.00 per person on behalf of the TMA municipalities above (up to $250 per community) to the North Shore Tour de Cure for each of the first 50 residents per community to register and log at least one bike trip during Bike Week 5/12—5/20. Help your community reach its donation goal. After all, we all know YOUR COMMUNITY IS THE BEST – so take those bike rides & PROVE IT!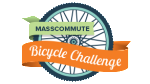 HERE'S HOW YOU CAN PARTICIPATE!
Register today at MassCommuteBicycleChallenge.org — It's FREE!
Ride and log all trips to Work / Training / Casual / Errands
Results: Show us your community spirit – help others, enjoy & feel great!
Remember your registration and rides support the North Shore Tour de Cure!